Characteristics and functions of the program
This calculation program on Excel makes it possible to dimension and carry out the calculation of the pressure losses on the distribution systems of heat such as the hot networks steam supply or overheated steam. It applies to all the types of pipes and particularly holds account of operating conditions and specific characteristics on the pipes, such as

The temperature of the steam conveyed until 320°C (overheated steam)

The operating pressure of the installation.

The thermal type of fluid used (Overheated steam or saturated steam)
The nature of the various types of materials used (steel pipeline, copper, PVC, built walls, etc.)

The different types of local pressure loss.
Complementary modules of calculations are incorporated in the program, has to know:

Pipe table editor with 246 pipes distributed out of 11 categories of networks.
K-factor editor for local pressure loss.
Orifice plate calculator.
Control valves calculator.
Equivalent-K calculator for local pressure loss.
The calculation program is equipped with a command bar personalized giving access to the various procedures, boxes of calculations and macro-commands.
The working files are created separately making it possible to reduce the data storage.

Table of the calculation of pressure loss

The working sheet file can be made up of various pipes. You can start from the same file, to insert a new worksheet or to duplicate the worksheet in progress for a similar study and to make the complementary modifications thereafter.
The types of pipes integrated in the ThermVapor program for the calculation of the pressure losses, are:
Black iron T1 and T2 pipes (traditional use)
Galvanized iron pipes

black iron T3 pipes

Black iron T10 pipes

Coppers pipes (everyday usage)

Coppers pipes (refrigerating quality)

Stainless 316L pipes
In your table of calculation you can add or withdraw lines of calculation, without deteriorating the phases of calculations.
You can also choose the unit of pressure of your choice in the study:

Pa (Pascal)

Pounds per square foot (lbf/sq ft) = 47.88026 Pa

Torr / mm Hg (133.3226 Pa)

kPa ( = 1000 Pa)

Feet of water (ft) = 2989.07 Pa

Psi (Pound per square inch (lbf/sq. in) = 6894.757 Pa)

Bar (100000 Pa)
For each sheet of the table of calculation, the presentation is done, that is to say:
In display BASIC: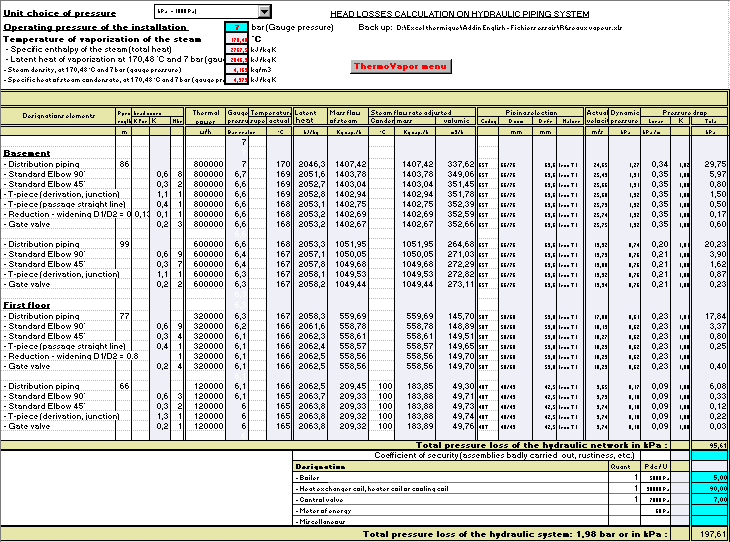 The pressure loss due to the flow of the vapor is accompanied by an expansion which results by an increase in the flow (i.e. speed), a reduction in the density and an increase in dynamic viscosity.
The program takes into account all these elements. This constraint obliges to carry out the calculation from the generator of heat. The elements of the piping are introduced as one goes along of the distribution of the vapor up to the most distant point.
At each entry of an element (pipe or accessories) in the table of calculation, the program automatically recomputed the inlet pressure on the following row in the column pressure of the table of calculation.
In complete display
The table visualizes in complement:

The roughness factors.

The steam density.

The steam specific heat.

The steam dynamic viscosity.

The Reynolds's number.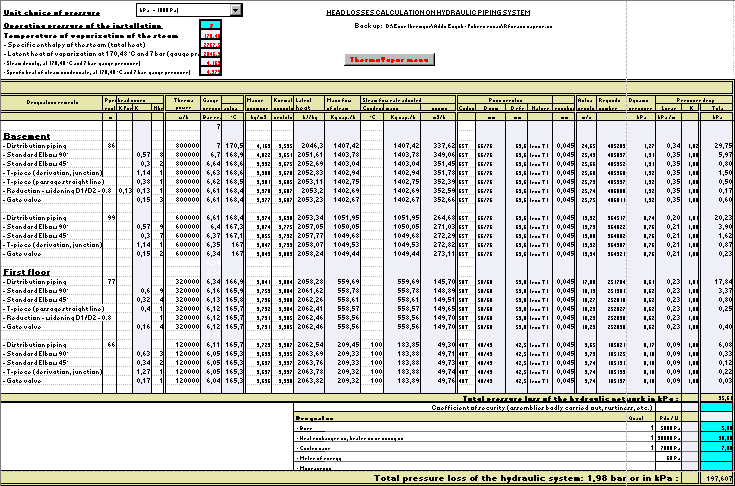 All the cells of calculation in purple are programmed.
Last update: